Welcome to the new year! We have some exciting announcements for Musicwood. First off, we will be screening to the music community at the NAMM conference this January in Anaheim, CA. We've been to NAMM a number of times, and are really looking forward to this opportunity to connect with people who love music and musical instruments. We began the new year with the great news that we have won the EarthVision Environmental Film Award at this year's Santa Cruz Film Festival! We've always loved Santa Cruz. We're currently number 3 on New Releases on the digital platform Vudu, (we are now available in the US on iTunes) and we're working hard to bring the film digitally to the rest of the world. We have our premiere in Australia coming up in February, keep checking our facebook and screenings page for more info.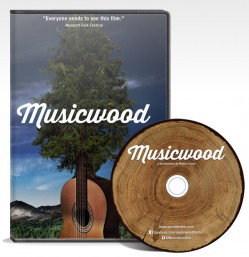 Happy holidays everyone! And hey, you know what makes a great gift? Musicwood DVDs. Yes, indeed. Especially for that guitar-lover on your list, or someone you'd love to give a guitar to, but it's a *bit* too expensive? Musicwood DVD. Bring joy to their lives and a smile to to their face with the gift of music! Musicwood that is.
Well, we're winding down the week of screenings in NYC at The Quad, and the panels and special guests have been amazing, all week long. Tonight (Wednesday 11/6) we have a really special event: a pre-screening acoustic mini-set by Dawn Landes and Chris from the Punch Brothers. It's going to be a great experience, intimate, acoustic, good times. And then Musicwood will screen right after. Plus we're raffling off some Patagonia gear after the screening! It's gonna be huge. Come on by if you're in NYC. Get tickets here.