Well, we're winding down the week of screenings in NYC at The Quad, and the panels and special guests have been amazing, all week long. Tonight (Wednesday 11/6) we have a really special event: a pre-screening acoustic mini-set by Dawn Landes and Chris from the Punch Brothers. It's going to be a great experience, intimate, acoustic, good times. And then Musicwood will screen right after. Plus we're raffling off some Patagonia gear after the screening! It's gonna be huge. Come on by if you're in NYC. Get tickets here.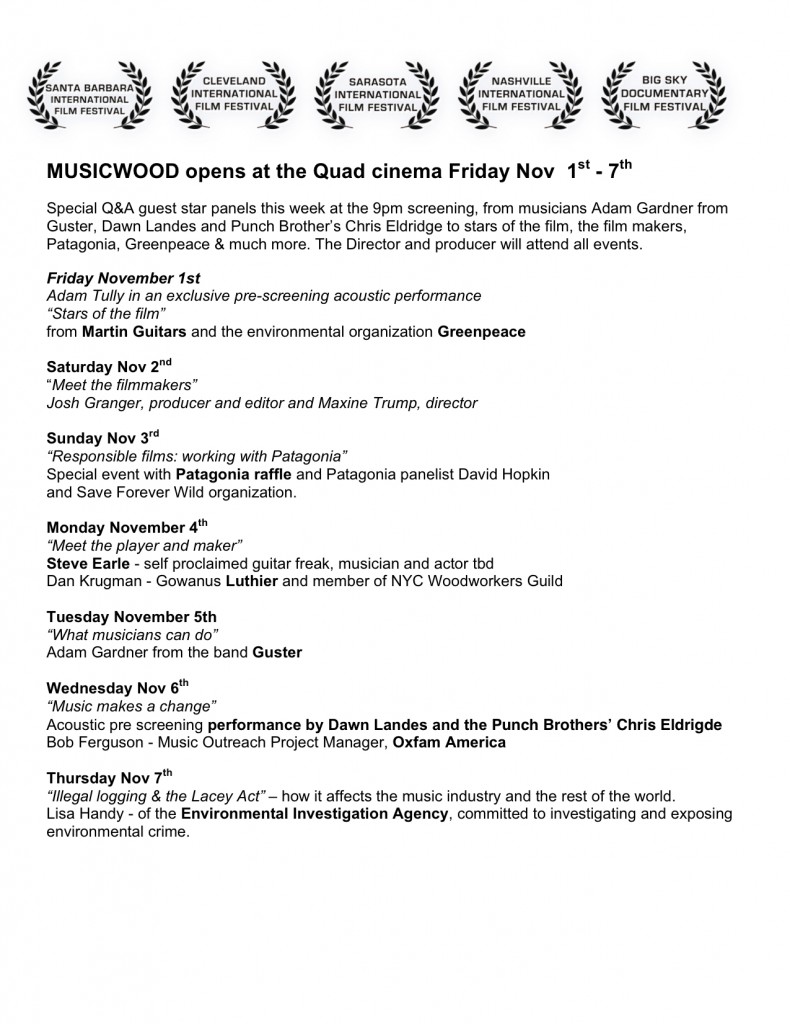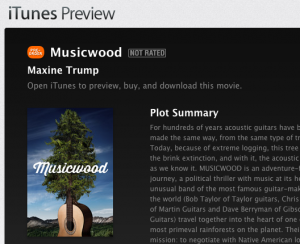 Well, this is it, Musicwood's giant opening run in NYC at the Quad Cinema! The film runs from Friday Nov 1 – Thurs Nov 7 and you can get tickets here if you're in town.
But it gets even more exciting, because on Friday Nov 1st we will also be available on iTunes! You can pre-order Musicwood on iTunes here.
So many ways to see the film. For the screening run at the Quad, we should mention that we've got special guests and panels going every night. Have a look!
Friday Nov 1st
Special opening night artist to be announced on the day
Saturday Nov 2nd
"Meet the Filmmakers" with Josh Granger, producer and editor and Maxine Trump, director
Acoustic pre-screening performance by Elk's Club lead guitarist Jay Bois
Sunday Nov 3rd
"Sustainable Films: Working with Patagonia"
Special event with Patagonia raffle and Patagonia panelist David Hopkin
Monday November 4th
"Meet the Maker, Player and Seller"
Steve Earle – self-proclaimed "guitar freak", musician and actor tbd
Matt Umanov of Umanov Guitars
Dan Krugman, Gowanus Luthier and member of NYC woodworkers guild
Tuesday November 5th
"What Musicians Can Do"
Adam Gardner from the band Guster
Wednesday Nov 6th
"The Sound and Beauty of the Acoustic Guitar"
Acoustic pre-screening performance by Brooklyn-based musician Dawn Landes
Chris Martin of Martin Guitars
Thursday Nov 7th
"Illegal Logging & the Lacey Act" – how it affects the music industry and the rest of the world
Lisa Handy of the Environmental Investigation Agency