Musicwood has Premiered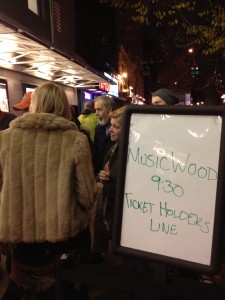 Well, the premiere was fantastic! Hats off to all those who came out and to DOC NYC for screening it. The film looked enormous on IFC Center's screen in IFC1, and the sound was absolutely out of this world. It was a great feeling to have the film premiere after all this time and be able to look out into the crowd and see so many familiar faces, folks who have helped the film with financial and moral support, and folks who didn't know a thing about it. We're really hopeful that we will be able to get the film to many different cities, and onto digital distribution (itunes, netflix, etc.) so that the rest of you will be able to see it as well. It really was a great time.
After the screening, there was a lot of buzz during the Q&A (featuring a panel of Maxine & Josh, Bob Taylor of Taylor Guitars, Greenpeace and Sealaska) and a great time was had by all. We even caught a couple of blog posts by people we don't know who caught the film, and everyone seemed to really enjoy it.
So now we enter the next phase of Musicwood's life: the festival circuit and exploring distribution avenues. We have a bunch of paths to explore for that, and we will keep you updated as to the progress. In the meantime, we just wanted to say thanks so much for helping us get this far, and we look forward to where the future takes us. I read something once about a film being made in the 40's and the director saying to an actress making her first film "get ready to grab on to a tornado and try to hold on." It's gonna be great.