Well, Musicwood news has slowed down quite a bit, although the film continues to screen in festivals and locally-organized venues, which is wonderful. We continue to monitor things here, and update the info section as more info comes in. And we're still in touch with all the parties involved, and get updates every now and then.
If you're interested in following our latest projects, you can check in with director Maxine's latest film, or producer Josh Granger's new project facebook page. We'll see you back here every now and then. Thanks so much for your support.
Some quick news, Sealaska's land bill has successfully been passed by Congress, they have swapped their original land selections for more valuable productive forest areas and now we hope they will become FSC certified.
As the leaves are falling we thought we'd give you some sneak peeks into Musicwood news…
We wanted to let you all know that Musicwood is now screening on the following TV networks: AMC in Asia and the Middle East starting November 1st. And you may have already caught it on the Russian TV network Rt.com, that also has cable networks in many other countries.
If you're flying off for the holidays you can watch Musicwood on Quantas airlines right now, and Finnair and Indonesian airlines very soon.
And if you're in the UK, we're also giving you the inside scoop that we will be announcing that Musicwood will be on iTunes in time for the Christmas Holidays. Yes sir!
America you already have the luxury to watch the film on iTunes, Amazon Instant, VUDU, Google Play and Hoopla.
And our Musicwood DVDs are also available in the following stores and more cities are being added daily
Gruhn's Guitars in Nashville
Rudy's Music in New York City
Fretworks in Chicago
Elderly Instruments in Michigan
Landmark E Street Cinema in Washington, DC
BUT NOW…
Our DVDs will be $19.95 as a HOLIDAY DISCOUNT, so all of you who can't afford to buy your loved ones a Martin, Taylor or Gibson guitar for the holidays, you might want to give them the next best thing. Click on "store" above.
Have a great Fall.
June has been an incredible month.
Sealaska shareholders voted for their Board of Directors and the shareholders had the opportunity to vote against discretionary voting. Discretionary voting allows the sitting board to use these shareholders' votes to assign to their own candidates which doesn't make for a fair and even voting system for the Independents. Controversially, Sealaska made sure to tell all shareholders that discretionary voting should stay in place.
Today you can catch the last airing of Musicwood on the Russian TV network RT, the film has been screening all month.
We screened the film in UK theaters in 7 cities around the country and we also had our last US theatrical screenings in Washington DC to fantastic audiences every night. The film is widely available in the US on digital platforms but now is also available on iTunes in Canada, which is really exciting. We will also screen on AMC in Asia and the Middle East later this year, and we are working hard to make the film available in Europe and other continents around the world. In the meantime we do have DVDs available and have been shipping them all around the world.
Spring of 2014, and Musicwood is available on iTunes and Amazon Instant, and events continue to accrue! Hot off the heels of several screenings throughout the US and Canada, we recently got the news that Musicwood will be screening in the UK this summer as part of the touring UK Green Film Festival and in Washington DC in early June. More info to come, watch this space. Also, on the press front, there's a great article on Musicwood in the March 2014 issue of Acoustic Guitar Magazine, have a look: http://musicwoodthefilm.com/Press/Acoustic_Guitar_March2014-Musicwood.jpg
Stay tuned for more screenings, and international news…
Welcome to the new year! We have some exciting announcements for Musicwood. First off, we will be screening to the music community at the NAMM conference this January in Anaheim, CA. We've been to NAMM a number of times, and are really looking forward to this opportunity to connect with people who love music and musical instruments. We began the new year with the great news that we have won the EarthVision Environmental Film Award at this year's Santa Cruz Film Festival! We've always loved Santa Cruz. We're currently number 3 on New Releases on the digital platform Vudu, (we are now available in the US on iTunes) and we're working hard to bring the film digitally to the rest of the world. We have our premiere in Australia coming up in February, keep checking our facebook and screenings page for more info.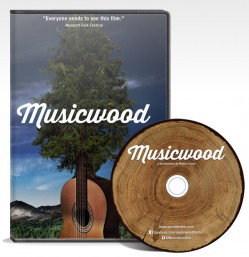 Happy holidays everyone! And hey, you know what makes a great gift? Musicwood DVDs. Yes, indeed. Especially for that guitar-lover on your list, or someone you'd love to give a guitar to, but it's a *bit* too expensive? Musicwood DVD. Bring joy to their lives and a smile to to their face with the gift of music! Musicwood that is.
Well, we're winding down the week of screenings in NYC at The Quad, and the panels and special guests have been amazing, all week long. Tonight (Wednesday 11/6) we have a really special event: a pre-screening acoustic mini-set by Dawn Landes and Chris from the Punch Brothers. It's going to be a great experience, intimate, acoustic, good times. And then Musicwood will screen right after. Plus we're raffling off some Patagonia gear after the screening! It's gonna be huge. Come on by if you're in NYC. Get tickets here.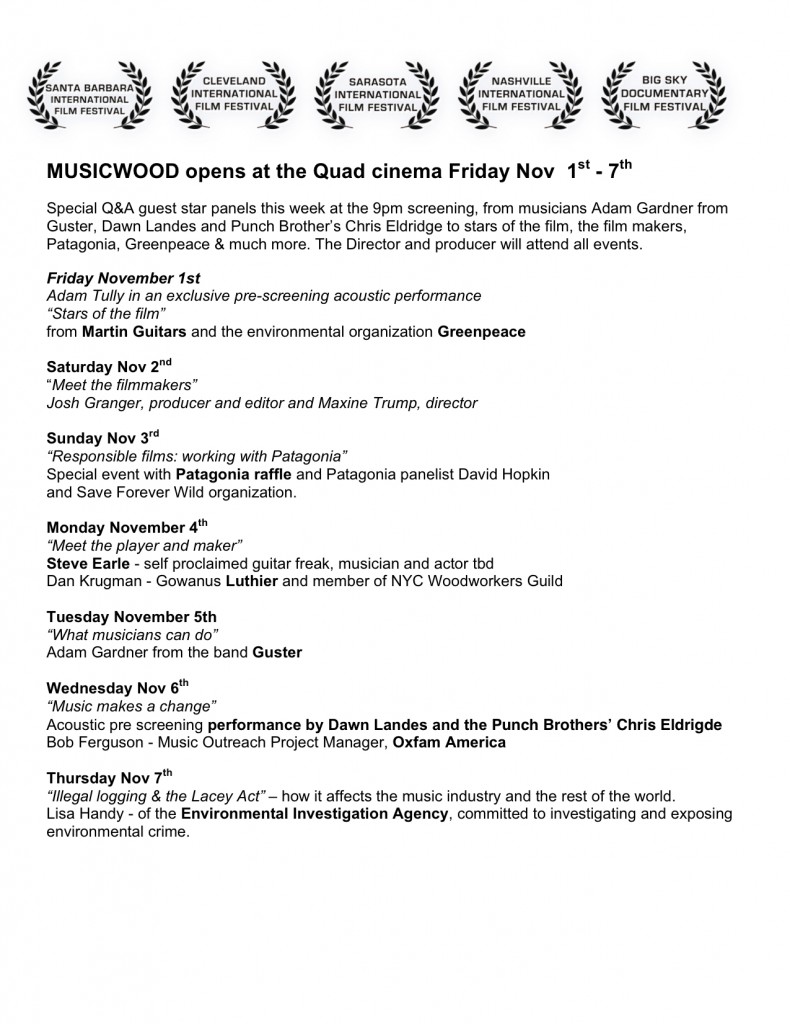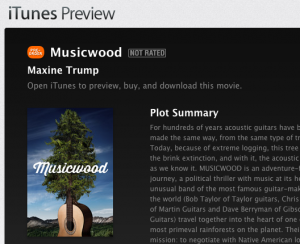 Well, this is it, Musicwood's giant opening run in NYC at the Quad Cinema! The film runs from Friday Nov 1 – Thurs Nov 7 and you can get tickets here if you're in town.
But it gets even more exciting, because on Friday Nov 1st we will also be available on iTunes! You can pre-order Musicwood on iTunes here.
So many ways to see the film. For the screening run at the Quad, we should mention that we've got special guests and panels going every night. Have a look!
Friday Nov 1st
Special opening night artist to be announced on the day
Saturday Nov 2nd
"Meet the Filmmakers" with Josh Granger, producer and editor and Maxine Trump, director
Acoustic pre-screening performance by Elk's Club lead guitarist Jay Bois
Sunday Nov 3rd
"Sustainable Films: Working with Patagonia"
Special event with Patagonia raffle and Patagonia panelist David Hopkin
Monday November 4th
"Meet the Maker, Player and Seller"
Steve Earle – self-proclaimed "guitar freak", musician and actor tbd
Matt Umanov of Umanov Guitars
Dan Krugman, Gowanus Luthier and member of NYC woodworkers guild
Tuesday November 5th
"What Musicians Can Do"
Adam Gardner from the band Guster
Wednesday Nov 6th
"The Sound and Beauty of the Acoustic Guitar"
Acoustic pre-screening performance by Brooklyn-based musician Dawn Landes
Chris Martin of Martin Guitars
Thursday Nov 7th
"Illegal Logging & the Lacey Act" – how it affects the music industry and the rest of the world
Lisa Handy of the Environmental Investigation Agency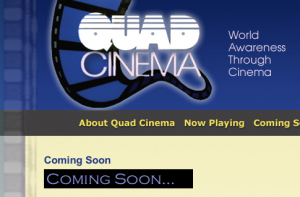 Musicwood is coming to NYC! It's been a whirlwind few months, with our international premiere in London, screenings in Flagstaff, Chicago (members of Wilco attended!), Toronto, Seattle, and more. But now we're happy to announce that we will be screening for a week in NYC at The Quad Cinema in the Village. Tell all your New York friends! We're putting together some really special events, locking in some acoustic artists to play before screenings, and of course, we'll be doing Q&A's after the shows. It's going to be a great time. We hope to see you there! And if you can't make it, check out our brand new DVD store and get yourself a DVD to watch in your very own home! We're going big with Musicwood, as big as an old-growth 600 year-old Spruce!
Well, if you've been anywhere near any of our feeds, you know that our international premiere is this week at the Raindance festival in London. It's extremely exciting, made all the more so by the fact that Turin Brakes — acoustic musicians who are featured in Musicwood — will be on hand at Thursday's premiere for a special pre-show performance. It's gonna be something special, so let your London friends know! Tell them they can get tickets and find out more here: http://raindancefestival.org/films/musicwood/
See you there!
Well, it's been an incredibly busy Summer, and shaping up to be a busy Fall. Just how busy, you ask? Have a look at this poster we made (in the style of bands' "world tour" t-shirts) and you'll get a sense of it!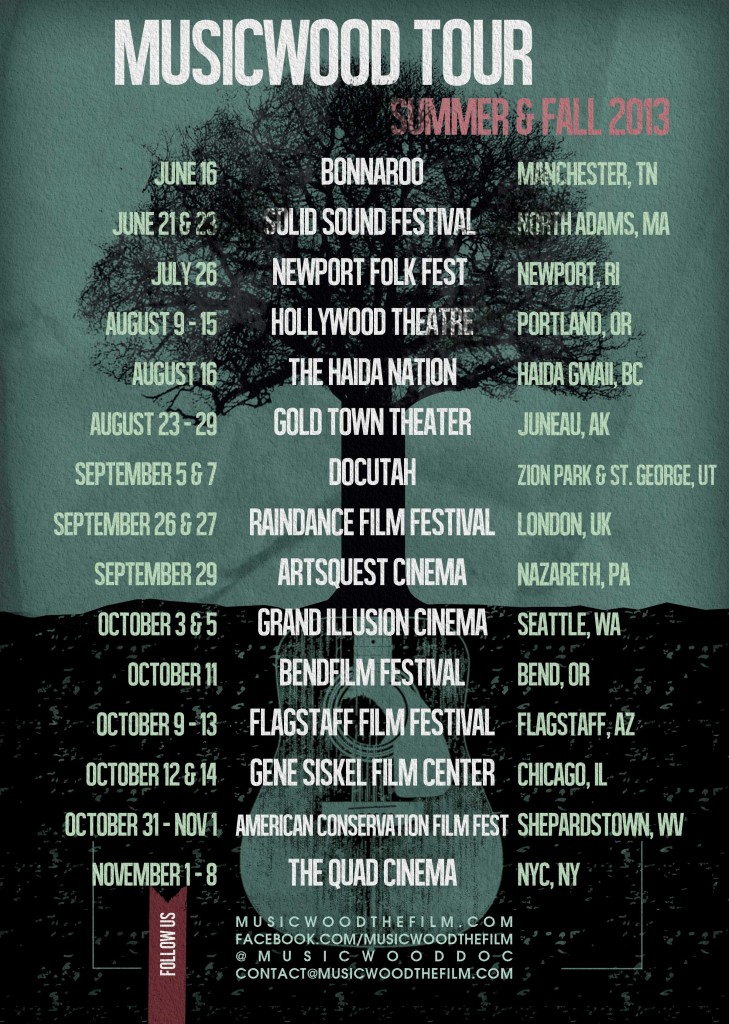 Hopefully we're coming to a town near you soon. See you there. Oh, and watch this space for some announcements in case we aren't coming to a town near you. You will still be able to see the film…
Hi guys, just wanted to let you know that we are screening in Juneau starting 8/23 and running through 8/29. The final screenings are 8/29, Wednesday night at 7pm and 8:30pm, so if you live in Juneau or know anyone there, let them know!
Musicwood is screening at the Gold Town, which is a great venue, and it's really amazing to see the splendor of the Tongass on the big screen. It's wonderful to be able to screen in the middle of the actual forest where the film takes place. Come on out and see for yourself!
More screenings to come, keep checking this space…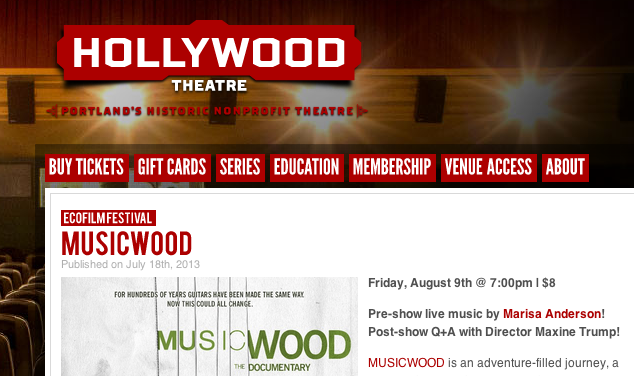 Well, the Newport screening was a great success — it was in an amazing old renovated New England-y theater and the audience really seemed to connect with the film, leading to a lively Q&A afterwards. Now we're off to Portland, OR, to screen at the Hollywood Theatre, opening next Friday, August 9th. We couldn't be more excited about this, it was always our dream to tour the film through the Pacific Northwest, and it's going to be a great experience actually getting to do it! Tell your Portland friends to come on out for the film, we're gonna do Q&A's and have other fun stuff. See you there!
Hey all, just before we get to the
Musicwood screening at newportFILM
, in conjunction with the
Newport Folk Festival
, we wanted to share the write-up we got from our contest winner for the Musicwood tickets to the Solid Sound Festival. Charles Briggs won himself a pair of tickets to the festival by posting why he loved the acoustic guitar
on our Facebook page
, and it sounds like he had a pretty great time. Check it out:
It had been six hours since we left Philadelphia and pointed our compass northward, headed for the town of North Adams on short notice. I had recently won tickets to the Solid Sound festival by entering a contest on Facebook, and couldn't have been happier to have been chosen.
Upon arriving in the town of North Adams, I knew for sure that we were in for a treat. Hugged between scenic mountains lies this small town, where the people are friendly and the stoplights are few. It's the kind of place where people don't lock their doors at night, and everybody knows everybody's name. I couldn't have found trash on the ground if I picked through the grass with a fine tooth comb. Upon arriving at the venue, I was blown away by the size and architecture of MASS MoCA, and this is when I knew things were only going to get better from here.
The sound of the earth drums could be heard ringing clear through the crisp Massachusetts air as I stepped through the gates. I was greeted by a performance of one of the many talented bands who were to be performing at the event. After reviewing my program, I made my way through the museum to make myself familiar with the layout of this glorious setting. Multiple stages were scattered around the grounds, and no matter which way I turned I was greeted with warm smiles and the sounds of guitars ringing true.
The first evening of the festival was nothing short of spectacular, but the highlight was surely Wilco's  fan-request set followed by a screening of the Musicwood documentary, both being very powerful and moving in their own ways. On the second day, I took some time to enjoy the Museum, and was impressed with the variety of installations showcased here. Some of the highlights were Xu Bing's Phoenix exhibit, which consisted of two larger than life pieces of art which truly took my breath away. The scale and detail of these pieces was nothing short of amazing. Around there corner from this were short films running around the clock, some ranging from as little as one minute long. The live birds of prey exhibit was also a favorite of mine, and very informative to boot.
Food was no rarity at this event, and the selection was spectacular. Anything from a slice of pizza to a vegan smorgasbord could be found, and you were sure not to be hungry while here. The staff at this event was more than helpful and always smiling as well. The air with thick with the sounds of live music, and laughter abound. If there was anything I could take away from this experience, it would be the reminder of the joy that music can bring. Day two went off without a hitch, and I still had not taken in all that this festival had to offer. So it was off to the hotel to rest up for the final day of the festivities.
The last day was bittersweet, because I knew I would be treated to more eclectic sounds, such as the performance by Medeski, Martin, & Wood, along with countless others, but the fact that I would soon have to depart this storybook town also remained. As I reflect on the experience of attending the Solid Sound Music and Arts Festival, I am filled with joy and fond memories. The experience was spectacular, and the mix of music, art, and fine foods was a combination I won't soon forget. I felt so lucky to have won a spot at this magical gathering, and would highly recommend it to anyone with an ear for music, and an appreciation for art of any kind.

This Summer Musicwood will be screening at some of the biggest music festivals in the USA! We hope to see you there, this is going to be huge.
BONNAROO – Friday, June 15th, 2013 at 8:45pm
SOLID SOUND FESTIVAL – Friday, June 21st, 2013 & Sunday, June 23rd, 2013
newportFILM FESTIVAL – (at the same time as Newport Folk Fest) Saturday, July 27th, at 7:00pm

We've got a busy month ahead, 7 festivals in just 7 weeks. We couldn't be more excited to be nominated for two awards at Cleveland International Film Festival, and the film plays Sarasota two days later.  We'll let you know of the other festivals when they're announced. Can't wait…!
Click the links below for info about Musicwood at each festival.
Cleveland International Film Festival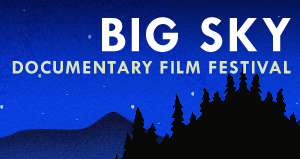 Musicwood is delighted and honored to be an official selection of the Big Sky Film Festival in Missoula, MT! If you are in Missoula, or know anyone who is, please come out and catch the screening on Monday, February 18 at 5:20pm. It's going to be a good time. We spent some time out in Missoula many years ago working on a TV doc about the resurgence of Bison in the area. It's a great town with a fun vibe and we have heard nothing but good things about the Big Sky Film Festival. We are extremely excited about being a part of it. Hope to see you there.
More information here: http://bigskyfilmfest.org/bsdff/festival/films/musicwood
Hey gang, just wanted you to know that Musicwood is going to be screening in Santa Barbara, CA next week as part of the Santa Barbara International Film Festival! We've got two screenings lined up, Friday, 1/25/13 at 4:00pm and Sunday, 1/27/13 at 1:00pm. Maxine and Josh will both be there for Q&A's after the screenings, and will be joined by members of Greenpeace as well. It's gonna be a great time, and a great opportunity to see the film on the big screen, so if you live in CA — or know anyone who does — definitely let them know! There's more information here: http://sbiff.org/film-festival/2013-schedule/