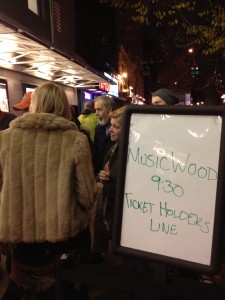 Well, the premiere was fantastic! Hats off to all those who came out and to DOC NYC for screening it. The film looked enormous on IFC Center's screen in IFC1, and the sound was absolutely out of this world. It was a great feeling to have the film premiere after all this time and be able to look out into the crowd and see so many familiar faces, folks who have helped the film with financial and moral support, and folks who didn't know a thing about it. We're really hopeful that we will be able to get the film to many different cities, and onto digital distribution (itunes, netflix, etc.) so that the rest of you will be able to see it as well. It really was a great time.
After the screening, there was a lot of buzz during the Q&A (featuring a panel of Maxine & Josh, Bob Taylor of Taylor Guitars, Greenpeace and Sealaska) and a great time was had by all. We even caught a couple of blog posts by people we don't know who caught the film, and everyone seemed to really enjoy it.
So now we enter the next phase of Musicwood's life: the festival circuit and exploring distribution avenues. We have a bunch of paths to explore for that, and we will keep you updated as to the progress. In the meantime, we just wanted to say thanks so much for helping us get this far, and we look forward to where the future takes us. I read something once about a film being made in the 40's and the director saying to an actress making her first film "get ready to grab on to a tornado and try to hold on." It's gonna be great.
We have a premiere!!!! So wow. The last post was in July, and since then we've been editing like crazy, sound designing and mixing, music composing, color correcting, and just generally doing everything that needs to be done to get a film finished. And we've done it! Oh, along the way we got accepted into the DocNYC Film Festival which is pretty spectacular as well! So we literally just dropped the film off today (!!!!!) for the festival. We're absolutely over the moon. And exhausted. If you happen to be in NYC next Tuesday, 11/13, please drop by and catch Musicwood at the IFC Cinema in the West Village. More details and ticket info can be found here. This is the summation of four and half years of work, and a ton of support from people like you who dropped by the website, donated, gave moral support, cared, etc. We are so excited to see what the next chapter of this experience will be. Join us for the ride!
Steve Earle is in Musicwood! Thanks to the hard work and connections of our fantastic Music Supervisor Brandon, we were able to connect with Steve Earle when he was in town hosting 3 nights at City Winery for Woody Guthrie's 100th birthday. The interview was a blast, as Steve waxed eloquently about guitars, wood, the idea of sustainability and his guitar collection (which he said was "stupidly" huge). Steve is a Texas and Nashville legend, an actor in both The Wire and Treme, and a self-proclaimed "guitar freak". He makes a very welcome addition to the roster of artists we have in the film. At this point, we're so close to being done — we figure we just need one more A-list star. Many thanks to Mr. Earle, we're sure you're going to dig his parts of the film.
Well, we have reached the stage of the post-production process known as the "fine cut". A step above the rough cut, the film now has the structure pretty much locked down, the scenes flowing, a lot of the pacing working, and it really feels like a film. We've put in a new temp music track — furnished for us by our new Music Supervisor — and the film is really feeling like it's coming together. Which is exciting! We're aiming to finish this August, so keep watching this space, the fun is just about to begin!
Back to working full time on Musicwood (had to go to the day job for a while there), and we're hoping to have the finished film by early summer. Thanks for all your support guys, it really gets us through. Just sent out an update to the Kickstarter backers, and was having a fun time remembering back to the Kickstarter campaign: the intensity, the stress, the massive PR push, the elation at reaching our goal. These days when I see someone I know is running a Kickstarter campaign, I pledge pretty quickly because I remember how amazing it felt for each and every donation (no matter how small!). The site has really blown up in the 9 months since we ran our campaign. They've had a number of million-dollar projects, and I think the success rate is currently at about 43%, which makes for some tough odds. It's a great tool to have, and we couldn't have gotten to where we are today without it.
And we're settling in to a solid 6 week edit, where we're going to take this rough cut and make it something even closer to the finished film. This can be a tough part of the process: we're so close to being finished, but have to stay focused and work hard to get there. We're excited to see the finished film begin to take shape, and can't wait to start the next (and massive) step on our journey: distribution and outreach! Thanks for joining us on this adventure.
Well, we had a great experience last week filming an interview with The Antlers and then an interview and performance by the spectacularly talented Kaki King. The guys from The Antlers were happy to chat about the acoustic guitar and what it's meant to them over the years. They talked about learning to play guitar on an acoustic, how they love and use that specific acoustic sound, and a bit about how they might feel if that sound had to change.
Then we talked with Kaki King about her multitude of acoustic guitars, how the wood affects each one's sound, and more. Finished up with her performing a rousing version of Bone Chaos in the Castle, which was an absolute pleasure to behold. We should also give a shout-out to our gorgeous location, Daddy's, which was gracious enough to open early for us, and provided a fantastic backdrop (take a look at that pic below!).
A great time, some great stuff, and we're really looking forwards to cutting it together and getting it in the film.
In light of the NAMM music conference starting in LA, and the fact that NAMM has called for a major change to the Lacey Act we thought we should post this interview. Dave Berryman of Gibson wants to ensure all wood that they use comes from legally logged forests, "that's the responsible thing to do". Why then would NAMM want to support a different goal for music instrument makers?
Screenings and more screenings! We've been lucky enough to show our latest rough cut of Musicwood for a bunch of folks, revising it each time. Most recently we were able to screen at Moviehouse through their enormous 1080p projector onto a huge screen. The footage looked great, and everyone there was really into the film, sticking around for a good discussion afterwards. Before the screening we had acoustic guitarist Halina Larsson play (on a beautiful Red Cedar guitar) while VJ Shantel Martin provided a stunning backdrop.
We got some great suggestions from these screenings, and feel like the film is really getting close to finished. Just a few more months! Hopefully. Looking forward to showing it to you all in 2012. We're taking a small break from Musicwood to let our brains reset so we can come in fresh and really hit the ground running next year. Hope you're having a great holiday wherever you are…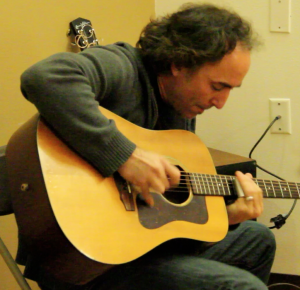 Well, we're back from Portland, and it was an amazing experience. We've been screening the rough cut of the film for various audiences to get their feedback on how Musicwood is doing, and we were lucky enough to be able to screen for an audience of Tongass activists, members of the Native Forest Council, environmental enthusiasts, and good ole regular folk. The location (and sound!) were provided by our friends at Wend magazine, and they invited a fantastic blues musician, Joe McMurrian (pictured above left), to play a short set before the screening. His Spruce soundboard guitars sounded unbelievable and filled the room with the sound of the wood before we showed the film. Read More
Early in September we spent a week in Alaska filming the last of the magnificent Spruce trees in the Tongass forest. Read More
So our Musicwood Kickstarter project reached our goal of $20,000! It is an amazing feeling and we are humbled and awed by all the people that felt strongly enough about our project to pledge funds. We're building a great community around the film and it's a great thing to see happen.
Our campaign still has 8 days to go, and we can continue to accept donations, so if you want to pledge and haven't yet, you've still got time! And there are still some great rewards to be had at a lot of different levels: tickets to shows, a free massage, comedy tickets. Lots of great stuff. So head on over there and get yourself something nice and help our film at the same time. And thanks. We couldn't have done it without you.